Shanghai FIC Ended Successfully, HSF's "Customized Fermentation" Bebut Brightly.
The 2023 FIC exhibition has successfully concluded, with HSF Biotech Company showcasing Fermtek™ which is new fermentation series products. In just three days, HSF Biotech booth welcomed numerous peers, customers, and consumers to visit, consult, and negotiate. The HSF team was also attended all day, warmly receiving guests.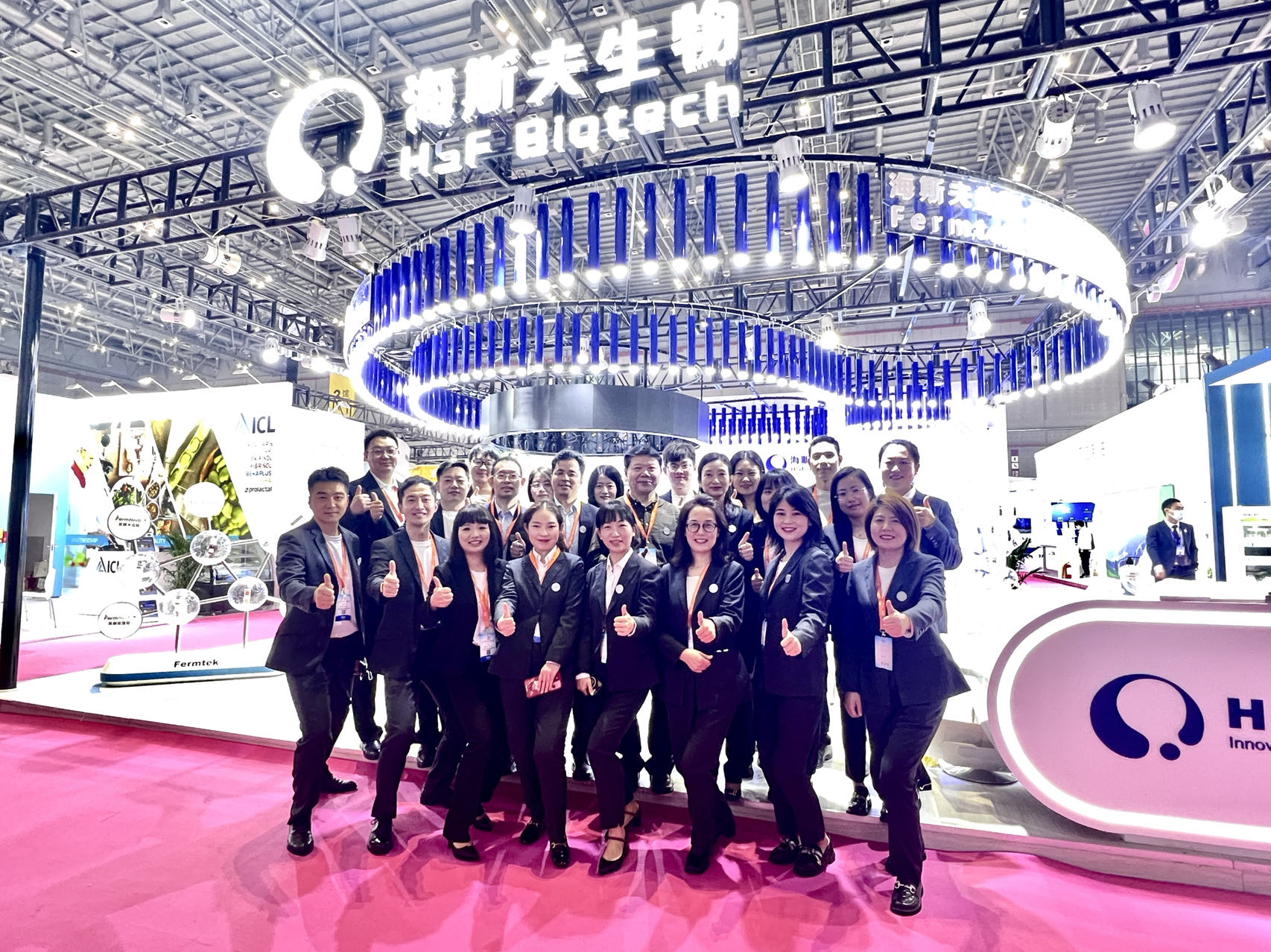 The visiting clients expressed that they have witnessed the vigorous development of HSF Biotech over the years. With a rich product lineup based on natural vitamin E, HSF's market vitality is becoming stronger. The launch of HSF's fermented products Fermtek™ represents the trend of food raw materials. In the future, with its professional technical team and excellent product innovation capabilities, HSF Biotech will become a rising star in the industry.
At the same time, many clients at the scene were very interested in HSF's new fermented products. After in-depth understanding and exchanging contact information with the business manager, they highly affirmed HSF's service and product advantages.
Highlights of Exhibition
At the exhibition, HSF Biotech introduced its brand new custom fermentation series Fermtek™, leading the industry with innovative biological fermentation technology and working with customers and partners to drive the development of fermentation raw materials and innovative food solutions.
Fermented Rose Powder
With over 10 years of experience and advanced microbial fermentation technology, HSF Biotech has launched Fermtek™ Fermented Rose Powder specifically designed for women's health. It can whiten and brighten skin, combat oxidation, relieve stress, boost immunity, and aid in weight management through intestinal health.
Fermented Papaya Powder
Also on display at this exhibition is Fermtek™ series of Fermented Papaya Powder specifically designed to regulate digestive health, relieve stress, boost immune function, and aid in weight loss and slimming.
DHA Oil/Powder
In addition to the two new products mentioned above, HSF Fermtek™ product series is also newly launched, keeping up with the industry development trend and leading the industry development direction. HSF Biotech Company has introduced DHA Oil/Powder, which is natural fermented, highly stable, and can be made with a maximum content of 50%. This provides more raw material options for our industry partners.
Beta-carotene
Beta-carotene is one of the carotenoids and is a fat-soluble compound. It is the most common natural pigment found in nature. The natural beta-carotene is derived from microbial fermentation of Blakeslea trispora, with high utilization. Using patented biological separation and purification technology leads to a higher purity, with combination of cis/trans isomers making it easier to absorb.
Trend and Change
Customized Fermentation Leads to a Smarter Future
As a high-tech biotechnology company renowned for its emphasis on research and innovation, HSF Biotech has integrated and optimized technologies such as oil refining, molecular distillation, microencapsulation of functional factors, microbial fermentation, and high-efficiency separation and purification. It provides customers in the global nutrition and health industry with systematic product solutions. The company's main business includes research, production, and sales of multiple product series such as plant sterols/esters, natural vitamin E, functional lipid microencapsulation, functional powder microencapsulation, natural pigments, and ferulic acid. These products have a wide range of applications in edible oils, pharmaceuticals, health foods, dairy products, dietary supplements, personal care products, and animal nutrition sectors.
With over a decade of industry experience, HSF Biotech has always been committed to working with customers and has launched a high-end customization brand named Fermtek™ fermentation series. This offers personalized fermentation products and technical services that meet the unique needs of enterprises. This is not the end but a new beginning for HSF Biotech Company as it undergoes transformation and empowerment which is essential for its growth. By 2023, HSF Biotech anticipates collaborating with more partners to set sail from a new starting point, exploring new directions, and welcoming a new future!